All of us dread that temperature needle going up and steam coming out of our bonnet while stuck in bumper-to-bumper traffic on Shahrah-e-Faisal during rush hour. It is difficult to predict when your car is going to fail you without regular checkups. To ensure your vehicle is always in tip-top shape, you can conveniently schedule regular checkups from the comfort of your home. This has the potential to save you thousands in repair and rebuild jobs.
Save your time
Scheduling regular checkups for your car can identify any issues before they result in a breakdown. It is considerably more time and cost-saving to perform preventive maintenance than it is to do breakdown repairs. Regular maintenance costs a consumer lower than what a major car repair would cost. Break downs have a toll on your schedule when they happen as well as add a task on your weekend. By having a mechanic come to your home and providing you with a health report, you can forecast and schedule any repairs required in your car. If a car does not have a regular maintenance plan then the cost for repairing over a year can span anywhere between Rs 7500 to Rs 80000. Regular maintenance can cost somewhere between Rs 13000 to Rs 18000 depending on the vehicle.
Impact on the fuel efficiency
In addition to saving you time and money on breakdowns, regular checks, and tune-ups, also substantially improve the quality of your drive, as well as provide savings in fuel expenditure. Regular maintenance can increase the mileage of a car by about 4% to 40%; with the price of petrol soaring at Rs.120 per liter, this can have a big impact on your fuel expense.
Impact on car's resale value
Regular maintenance can also help maintain the car's resale value. People interested in buying second-hand vehicles are keen to get a car that has been maintained by the owner. A scheduled maintenance plan can add a layer of trust between the parties involved and the seller often gets a fairer price.
One of the biggest problem faced by the car owners is that they are charged for the genuine parts but get fake spare parts for their vehicle. After a thorough research and knowledge, OkayKer decided to give a brief detail and steps to differentiate between Genuine & Fake Auto Parts of cars.
1. Packaging
The very first thing which you should always be focusing on is the packaging of the product you are buying. The genuine spare parts are packed in high-quality packaging and shipped with care, whereas if we talk about the fake parts, they are packed in cheap & flimsy way.
2. Typing Errors & Mistakes
When purchasing any product, whether it be a spare part or any cosmetic product. The best way to check whether it is a counterfeit product or a genuine one, go through the description, details & instruction printed on the packaging of that particular product.
This is the case in every product, sometimes we might also witness few problems in the design or writing of logo or the company name which indicates that the product is not original and a counterfeit one.
3. Incomplete Instructions
Whenever we purchase a spare part, there will be a manual inside the packaging with diagrams illustration of how it will work and be changed in the vehicle along with instructions and details. The fake auto parts usually do not have this and even if they do, the instructions will be incomplete or will make no sense at all. So while purchasing, make sure the instruction is making sense and is valid for the product you are buying and not of any other product.
4. Mismatched Parts
A genuine fitting of any product is the most accurate, whereas if you purchase any fake part and try to put it in the right place, the fitting will not be as accurate as the original ones. Not only this, but the color difference, weight and dimensions can be seen in the fake parts.
5. Cheaper Price
Genuine spare parts are more expensive because they are of the best quality compared to the fake auto parts. Because original and genuine parts mostly have a warranty as well, that is the reason they are expensive whereas if we talk about the fake spare parts, they usually way cheaper than the genuine one and do not have warranty.
It is preferable to maintain your vehicle regularly and check whether the parts being installed and used in your vehicle are genuine and high quality as it effects the overall performance of the vehicle. Fake parts will always have a negative impact on your vehicle and might damage other parts as well and the drive will not be the same.
Contact OkayKer for all your car problems, and we will provide you the service at your doorstep.
Car heating can damage the car engine, battery, exterior, and interior. Overheating can also cause car efficiency to suffer. A car can heat up due to various reasons, like hot weather, poor cooling system, poor AC performance, etc. Moreover, worn-out car parts can also increase car heat. However, to resolve the issue of car heating, timely maintenance and service can be extremely helpful.
Wondering how to fix an overheating car? Here are a few tricks that can help keep your car stay moderately cool and safe in the scorching heat in the summers.
Internal Temperature
Sunshine not only heats up the car interior and seats but also makes the paint of the exterior faint, and its shine to decrease. In addition it also puts engine and gauges at high risk. You can prevent this by using sunshades on windows, leaving windows open just a crack, and parking in shade.
This keeps the car interior cool as well as keeps the internal gauges and sensors functioning properly. In addition, if the engine is not kept cool, it might lead to the car heating up, especially older vehicles, and the radiator will have to work extra hard to cool the engine down once the car is started.
Before driving the vehicle start the car and turn the blower on full to pass all the hot air out of the car, and also wait for the engine temperature light to switch off.
Air Conditioner Service
There is nothing worse than getting in a car without a properly functioning AC during Karachi summers. In order to save yourself from this ordeal make sure your car's AC is properly functioning . You can call a mechanic at home to change the AC filter, check if the condenser, evaporator, and cooling coil are properly functioning, and whether the gas pressure is full. This will keep your commute and relaxing.
Engine Temperature
Keep an eye on the engine temperature to ensure that it is not heating up. For older vehicles check the water in the radiator before each start up to ensure that it is not empty. This can indicate leakages and an empty radiator can result in heating up. Get radiator flush or coolant flush; drain the old coolant by flush fluid and add new coolant. Expert Mechanics suggest flushing the radiator every 40,000 miles. A car heating up can result in gasket leakage and mixing of oil and radiator water which will cause the car to seize up. In the case you notice water accumulating under your parked car make sure to contact reliable car repair service in Karachi as it may mean there is a leak in your radiator.
Check battery health
Battery health deteriorates in high temperatures, and the sweltering heat will turn the inside of your bonnet into an oven taking the temperatures upto 70–80 degrees. Make sure to keep battery fluid in check and call a mechanic in case the start up is not immediate.
Maintain Appropriate Tyre Pressure
Do not over-inflate your tyre. Keep the pressure between 30 and 35 PSI. In summers, due to the expansion of air in the tyres, the pressure may increase, resulting in tires bursting.
As a person in Pakistan would say "gaarion ki qeematain aasmaanon sae baatian kar rae hain", purchasing a decent car has become an extreme financial burden. So here is a list of the top used cars we would recommend you to buy if your budget is 1 million PKR.
1) Mehran 1989–2019
AKA "BOSS"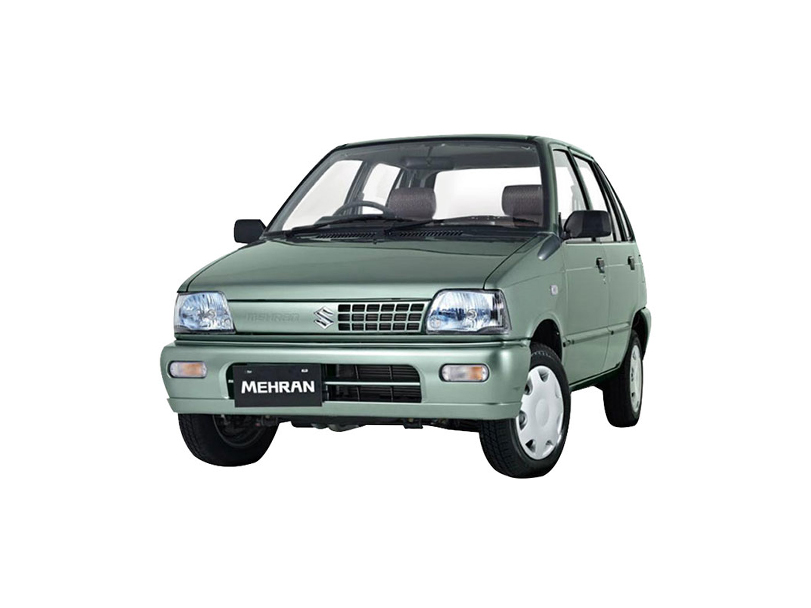 Boss was introduced in the Pakistani automotive market in 1989 as a successor to Suzuki FX and initially sold at PKR 90,000. All the models up till 2013 were sold with a F8B 796cc engine along the conventional carburetor; later in 2013 onward models fuel injectors were installed. It has been an all-time favorite of Pakistanis because of being budget friendly, its low maintenance cost, and mileage of 13–14 km/liter. Consequently, Boss has always had a high resale value as well as high demand which is one reason why we Pakistanis are willing to purchase it's 2019 model in PKR 1 million and above to date.
Boss tops Okay Ker's list of best budget cars under 1 million because of the following reasons:
i- Its mileage of 14–15 km/liter.
ii- Easily available parts in the market
iii- Spare parts are cheap
iv- Incredible resale value
2) Cultus 1983–2016
Initially Cultus was sold under the name of Suzuki Swift when it was first introduced in 1983 with a 993cc three-cylinder engine. Later in 1986 it was sold under the name of Khyber in Pakistan and from 2000 to 2016 the second-generation cultus was introduced which comes with a 1.0-liter 999cc engine along with a 5-speed manual gearbox. The 2000s model easily provides a mileage of 14 km/liter and 11km/liter. The mileage mentioned is for EFI and Non-EFI engines respectively.
Cultus is available in three different variants like VX, VXR, and VXL. VX variants used to have black bumpers whereas VXR and VXL came with body-colored bumpers, the only difference being VXL had body-colored side-mirrors.
3) City 2003–2008
AKA CHUHA CITY
If you're looking for a more spacious car with more leg room to accommodate more passengers then we suggest you can check out Honda City EXI and Honda City i-DSI (2003–2008) which can easily be bought within 8 to 10 lacs.
City i-DSI comes with a 1493 cc 4-cylinder engine 5-speed manual transmission as well automatic transmission and provides with a mileage of 10 to 11 km/liter. Whereas, City EXI comes with a 1343 cc 4-cylinder engine and 8 to 9km/liter mileage.
4) Alto 2000–2012
If you are not satisfied with the comfort and features Boss offers then you can opt for Suzuki Alto which is equipped with a carbureted F10 AI4 970cc engine. Its production in Pakistan was started back in early 2000s. The only area where Alto beats Boss is when it comes to the air conditioning and interior comfort and appeal. It easily provides a mileage of 11–13 km/liter and parts are also readily available in the market.
5) Coure 2000–2012
Coure entered the Pakistani automobile market in 2000s and its production did not end until 2012. After Boss if there is any other car as successful as Boss it is Coure because of the superb mileage the car provides of around 13–15 km/liter provided it has been maintained thoroughly. It comes with a 847cc three-cylinder engine along with a 5-speed manual transmission as well as a three-speed CVT. Also, its parts are readily available in the market at very economical rates. This is why it comes second in our list.
6) Esse 2005–2011
You're on the lookout for a compact small sized car then Daihatsu Esse is a great option. Esse came into the Pakistani market back in 2005 and was imported from japan till 2013. It comes with a 660cc engine, automatic transmission and provides a mileage of 14–17 km/liter within city and up to 18–20 km/liter on long routes
7) Corolla 1994–2000
AKA INDUS
Another sedan which is a part of our list is none other than Corolla Indus XE 1998. Indus XE comes equipped with a carbureted 1298cc engine. On top of this it provides a mileage of around 15km/liter easily. You can easily buy it within the range of 8 to 9.5 lacs in mint condition. Every other car enthusiast who has driven an Indus claims there's no other Corolla which can be compared with that of the Indus.
8) Liana 2006–2014
The last sedan that's a part of our list is Liana. Equipped with a 1328cc EFI four-cylinder engine. It is another spacious car with sufficient legroom if you're looking for a family car. The plus point being it comes with airbags and provides a mileage of around 13 km/liter.
Once you decide upon which car best suits you, don't forget to get your car fully inspected by Gurus at Okay Ker, after which you'll be provided with an inspection report covering each important detail of your concern.
Make sure to address the below indications to make sure you are not blindsided by a hefty repair bill.
Low Milage
Pay attention on what mileage your vehicle gives per liter of fuel. For example a Honda City goes between 12–14 km per liter of petrol. If the fuel average falls drastically below this range then the vehicle may require maintenance. Maintenance (Oil Change, Filters Change, spark plug cleaning) and Tuning (Tappet adjustment, electronic tuning) and catalytic converter cleaning can fix these problems.
Keep a track of the fuel efficiency of your car
Engine Indicator
You should never ignore the Check engine light in your car. Take it to a mechanic to identify and address the problem. Your vehicle will be scanned using a specialized tool which will provide you details on what is malfunctioning. You can book a mechanic online who will visit your car and scan the vehicle allowing them to address the problem directly.
These signs indicate your vehicle has malfunctioning components
Unusual Noises
Different noises mean that there is a problem with a different part of the car. A ticking sound means that you need to change your oil. Squealing or grinding brakes mean that the brake pads are worn out. A squeaking sound often means that there is water or sand in the brakes. A clunking sound could mean that the shock absorbers are outdated, causing issues in handling and steering. Ticking sound from the wheels during turning can mean that the axles may need repair or replacement. Noise during gear shifting may mean that clutch or pressure plate is damaged and may require replacement. Noisy engine sounds can mean that tappet adjustment is required or that the silencer is damaged. Rattling can indicate something is loose in the engine. The best mechanics in Karachi will be able to assess the sound and diagnose accurately how to repair the vehicle.
Unusual Smells
If you smell something unusual, it is a clear indicator that there is something wrong. A burning smell, especially, is a sign of a serious problem and can indicate wiring shorting, or brakes not properly functioning, or low lubrication. Smell of maple syrup indicates that AC refrigerant is leaking. You can book a mechanic online to assess and pin point the exact reason for the smells and quote appropriate repairs.
Leaking Trail of Fluid and Smoking
Try to see if there is any fluid leakage when you park your car. The oils in the car are extremely essential for proper functioning of the engine and if you sense anything unusual, seek professional help immediately. Depending on where there is leakage there can result in malfunctioning engine, brake, and transmission
Smoke from the bonnet can mean oil leaking into engine or spark plugs and being burnt resulting in thick smoke. Smoke from the silencer can also mean burning lubricants. Smoke with a burning rubber smell can mean wiring being burnt in the bonnet, or brake malfunction depending on location. An online mechanic service can asses the damage and provide you with a quote for the job required.
Smoking engine or trailing oil can indicate serious problems in your vehicle
Pulling
If you feel that your car is pulling to one side when you intend to go straight, there is an issue with the alignment of the tires. Seek professional help immediately since this can lead to tire damage, whose replacement costs tons.
Misaligned wheels can result in vehicle drifting as well as wear and tear on tires
Shaking
Unexpected shakes can indicate problems in your engine, transmission, and brakes depending on when those shakes occur.
A car shaking on idle can indicate problems with your engine and can be fixed by proper tuning of the vehicle. Shaking at higher speeds could mean that the engine has become old and weak due to wear and tear, and carbon deposits. Similarly shaking at lower speeds or during changing of gears can indicate weak clutch and/or pressure plate. Finally, car shaking during braking can mean that brake pads need to be replaced. It can also indicate that the engine foundations are wearing and they might need a replacement as well. In the case of vibration or idle shaking, it is best to have it diagnosed from a mechanic. You can also look up for online repair services in Karachi, and a mechanic can diagnose the car at your time, place and covenience.
Frail Start
Whether you have a sports car or a normal one, it must have a strong and crisp start. The engine must start immediately after you turn the key. If you notice any sort of delay or any unusual sound when you start your car, it may mean a weak battery or problem in the "self"
Tire Damage
Improper inflation, punctures, and cracks in your car can be a clear sign to replace your tires. If the depth of the tread is not optimum, the car will be very unsafe in wet conditions.
For this, checking the depth of the tire and making sure that it is close to the optimum level is essential. Beyond 2/32″ level, it is your legal requirement to get the tires changed. here are many ways to check the depth of the tread, coin test being the most simple one. Conduct the coin test by inserting a 2 rupee coin into the grooves of the tire. If it gets halfway into the grooves, your tire is in the perfect condition. However, if only 30 percent of the coin goes inside, the condition is cautious and if only 20 percent of the penny goes in, you must replace the tires.
Traveling long distances can be a horrific experience if your car is not maintained properly. Here's OkayKer's list of the top eight things you must keep in mind before traveling long distances in your vehicle. We at OkayKer suggest you keep a check on these aspects of your car periodically to elongate your car's engine life and quality to save it from extra wear and tear which you can reduce to an extent. If your busy and hectic schedule does not allow you to then OkeyKer's Gurus are just a call away!
Engine Oil
The engine oil comes at the top of our list as without the right quantity and grade of oil your car's not going to function because without lubrication movement of all the components of your engine isn't possible. Not just this it also helps in cooling by reducing the temperature of heated parts involved in the combustion process. In addition, it also keeps the engine clean by making sure combustion residue does not deposit in your engine. We recommend engine oil change after every 4800 kilometers and your engine oil filter along with it.
Radiator Health
The second most important component is the radiator which helps in the regulation of your engine's temperature and prevents your car from malfunctioning. So, make sure you fill it with genuine radiator fluid and close your radiator cap tightly.
Vehicle Fluids
Vehicle fluids include a variety of fluids like radiator fluid (which is a mix of the recommended coolant for your car and water), brake oil fluid which must always be leveled till the full point labeled on the brake oil container, and power steering fluid which must be changed if it has turned into a brownish or foamy liquid.
Electrical Components
Electrical components you must be concerned about include your car's proximity sensor, taillights, headlights, and fog lights. If anyone of the lights is not functioning properly the driver behind you or in front of you is likely to get confused. The proximity sensor starts beeping upon coming to close with another object. Hence make sure all of them are working properly to avoid any unwanted accidents.
Brakes
If your car is taking more than the usual time it takes to stop or if your steering starts vibrating upon applying the brakes, we suggest you need to check your brake pads and your brake fluid level as well.
Tire Pressure
Tire pressure is usually listed on a sticker inside the driver's door which must always be between the range of 28 to 32 PSI. Driving with under-inflated tires makes your tires wear out quicker and can lead to loss of vehicle control at very high speeds. Whereas, an over-inflated tire reduces the ride quality and is the reason behind uneven wear and tear of your tires. Therefore, always be sure of the tire pressure before going on a longer route.
Suspension
The suspension of your vehicle plays a vital role in providing the driver and the passengers of the comfort that is required when traveling long distances. Damage to a car's suspension will impact its axle as well, and if the axle of a car breaks the car will not be able to move from its location.
Emergency Tool Kit
We recommend you always be prepared for a car breakdown by keeping an emergency tool kit especially if you do not maintain your car regularly. The following equipment is a must-have:
i- Jumper cables
ii- Tow rope
iii- First aid kit
iv- Reflective warning triangle
v- Gloves
vi- Flashlight
vii- Fire extinguisher
We hope reading this has provided you with a checklist of things you should do and the necessary equipment you will be needing in order to stay safe and enjoy your journey.